Cancelled due to lack of teams


Current Prize Fund: 12 100 000 Kamas


GUILDS LISTEN UP!

Guilds are the backbone of the game we all know and love and player versus player combat has become a integral part of the modern game, because of this I would like to combine the two and create Shika's first Guild Tournament since 2.0. The idea of a guild tournament is not new but will hopefully be revolutionized by this attempt at it. Something like this could possibly liven up the server again and get the community talking about something exciting which is some Shika needs right now.

Lets get down to business

First off, the tournament being planned will be in a tree style. The first round matches will be generated from random selection on an online random name generator. After that the tournament will branch until we reach a semi-final and final as shown bellow: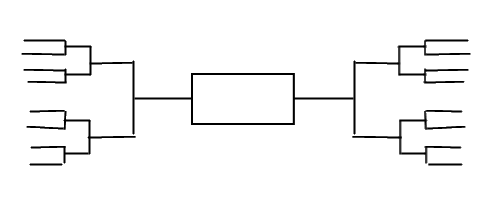 However if the tournament ends up with 16 teams or more then group stages will start off the tournament. Each group will have 2 successors based on teams with the most wins.

Percentage of the pot rewarded:

1st: 50%
2nd: 30%
Joint 3rd: 10% each

Rules of the Tournament


Your guild must put forward a team of 4 players and if you wish a maximum of 6 reserves.


Each guild must pay the sign up fee of 50 000 kamas for their team to register (The money from this is the prize fund, no deductions).

No offensive language or behavior, anything of this kind by spectators or competitors will result in a sanction.

Sanctions will be decided on the spot by the referee.


Each guild may put forward as many teams as they like, they will function independently and will be labelled A, B, C etc.

There will be no shields, multi accounting or multiples of the same class per team in this tournament.

If your team does not show up at the allotted time slot, leaving 10 minutes waiting time, then your team will forfeit the fight.

The fights will be across the week and will be on five selected zaap maps. The map will be randomly selected for the match. The maps will be as follows:
Gobball Corner [5,7]
Madrestam Harbour [7,-4]
Sufokia Gulf Shoreline [10,22]
Edge of the Evil Forest [-1,13]
Rock Road [-20,-20]
Team Point Guideline
Your team may consist of characters that add up to a max value of 15 points.

Osa, Sac, Eni, Feca: 6 Points
Xelor, Sadida, Rogue, Enu, Panda: 4 points
Sram, Masq, Iop, Cra, Fogger, Eca: 1 points
Times of Matches
All matches will be between 16:00 and 20:00 (GMT +0) unless spectacular circumstances state that another time is needed. Special times for the matches can be organized but only if both teams agree to it and a referee can be found.



So you best all sign up!



This will go ahead no matter what and I'm sure we will all have a brilliant time. It would be great to see many of the top guilds fighting and I am proud to be the organizer of this tournament. If you need to know anything else message me in game or via imps village, I am open to any questions.

Applications are to be made via private message on imps village or in game to my character Element-Valkyre. Applications will close November 2nd, your registration fee must also be in by this time.

The prizes will be worked out as soon as the application phase closes so we know how much money we have to work with.

Thanks, Matt.

List of Participants


DONATIONS TO THE PRIZE FUND ACCEPTED GRACIOUSLY
Edited by What-A-Pro, 01 November 2012 - 06:05 PM.